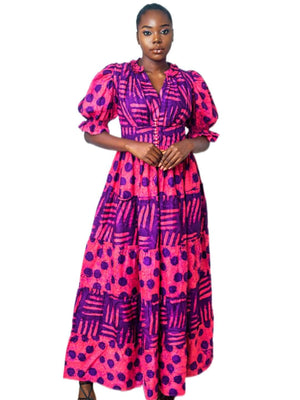 Adunni Dress
Sale price Price $485.00 Regular price Unit price / per
Introducing our Adunni dress!!
This dress is our most special and most intricate item we've ever produced. Made from fabric hand printed in Nigeria using tradition, age old batik technique that have been passed down across generations. I'm so proud that we are now able to deepen our impact and bring fabric artisans into our fold. 
The Adunni dress is one that will make you feel like the belle of any occassion you wear it to. It packs comfort and function plus eye-catching design. With the fabric being hand printed, you can be sure no 2 Adunni dresses are alike. You truly are getting a unique one-of-a-kind dress!
The Adunni is part of our made to order collection that allows us to be better stewards of our environment. So please plan to get it within 4 weeks. 
Please note
Preorders ship in 4 weeks

Each dress is unique, so pattern placement will vary from pictured

There's a zipper in the back for ease of access and button in production version differs slightly from pictured. 

 As with all our items, when you purchase this dress, you are not only getting a high value item but also making it possible for us to continue to support our wonderful Artisans in Nigeria with Jobs and a steady income!